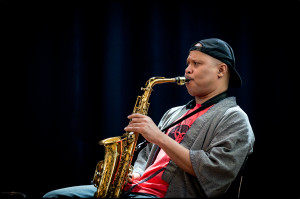 Steve Coleman and The Council of Balance will be touring Holland, Belgium and Italy from November 5 through 16, 2016.
Nov 10 2016 Bijoke (Gent)/Belgium De Bijloke
Nov 12 2016 's-Hertogenbosch's/Netherlands Verkadefabriek
Nov 13 2016 Rotterdam/Netherlands De Doelen – Grote Zaal
Nov 14 2016 Bologna/Italy Teatro Duse
Nov 15 2016 Bologna/Italy (workshop for music students)
Steve Coleman, alto saxophone
Maria Grand, tenor saxophone
Jonathan Finlayson, trumpet
Miles Okazaki, electric guitar
Anthony Tidd, electric bass
Dan Weiss, drums
in collaboration with The DoelenEnsemble
Marieke Franssen, flute/piccolo
Ilse Eijsink, clarinet/bass clarinet
Floris Onstwedder, trumpet/piccolo trumpet
Marijn Migchielsen, trombone/bass trombone
Eva Stegeman, violin
Jellantsje de Vries, violin
Katya Woloshyn, viola
Andrea Gomez Oncina, cello
Nienke Kosters, double bass
Wilbert Grootenboer, percussion
Maarten van Veen, piano
For more information please visit the Saudades Tours site.
Please join our creative music community at m-base.net, if you are interested in exploring new perspectives in creative music (registration is free).