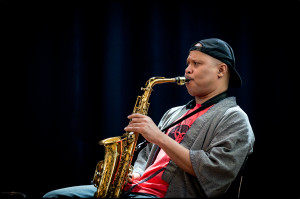 On July 9, 2017 at 3:15pm, Steve Coleman and The Council of Balance will perform at the Northsea Jazz Festival in Rotterdam, Netherlands (on the Madeira stage).
This large ensemble, which is featured on the recording Synovial Joints, does not frequently perform in Europe, so be sure to catch this rare performance.
Steve Coleman and the Council of Balance
Steve Coleman           alto sax
Jonathan Finlayson  trumpet
Roman Filiu               tenor sax
Rane Moore                clarinet
Miles Okazaki            guitar
Anthony Tidd             bass
Dan Weiss                   drums
Doelen Ensemble (flute, trumpet, trombone, 2 violins, viola, cello, double bass, percussion)
Click here for more information (this concert was just confirmed, so it may not be on Northsea's website yet).
Please bookmark this page and check back with for frequent updates, or contact us at info1@m-base.org