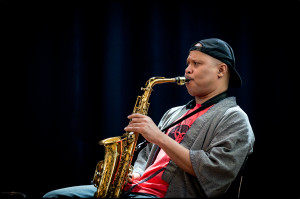 From November 30 to December 21, 2015, Steve Coleman and Five Elements will present a residency in Los Angeles. The primary location of activities will be the Blue Whale in downtown Los Angeles.
Performances
Workshops
Outreach Programs for the Community
There will be frequent performances and workshops at the Blue Whale, and also other locations in the Los Angeles area. There will also be outreach activities mostly done in the Southern California area.
Steve Coleman and Five Elements will perform 6 nights a week at The Blue Whale with the following schedule:
Monday Nov 30
Wednesday through Sunday, Dec 2-6
Tuesday through Sunday, Dec 8-13
Tuesday through Sunday, Dec 15-20
ADVANCED INTENSIVE WORKSHOP
We will be presenting advanced intensive workshops for musicians Tuesday December 8 through Sunday December 13, 2015, from 3-6pm each day.
These six 3-hour workshops will focus on merging intuitive and logical faculties. Sessions led by Coleman will develop individual work, demonstration, theoretical skills, and listening. Sessions led by the band will focus on ensemble demonstrations, communication, and instrumentation. Includes some public rehearsals and performances. All workshops will be held at The Blue Whale at 123 Astronaut E S Onizuka St #301, Los Angeles, CA 90012. The workshops are $25 per day, or $125 for all six days, payment can be made at the Blue Whale on the days of the workshop.
This is a production of M-Base Concepts, Inc., in collaboration with the Blue Whale, various Universities and other nonprofit partners in the LA area.
Please bookmark this page and check back with for frequent updates, as we are updating all the time – or if you want to participate, contact us at
info1 at m-base dot org
Steve Coleman and Five Elements presented a successful residency this past summer in Chicago, and now focus their attention on the West Coast of the United States. These pilot residencies are designed to generate energy in the areas where they occur, educate local musicians and introduce audiences to creative and progressive music.