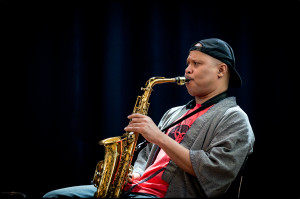 From July 11 to August 6 2015, Steve Coleman and Five Elements will present a residency in Chicago. The primary location of activities will be the Reva and David Logan Center for the Arts.
Multiple Performances
Multiple Workshops
Outreach Programs for the Community
Open Rehearsals for the Community and Musicians
Local Musicians participating in many of these activities
Final Performance on Aug 6 2015 at Made in Chicago: World Class Jazz in Millennium Park
There will be frequent performances and workshops at various venues within the Logan Center, and also other appearances in the Chicago area. There will also be outreach activities mostly done on the South Side of Chicago.
On Aug 6 2015 there will be a final grand performance in Millennium Park as part of the Made in Chicago concert series.
This is a collaboration of M-Base Concepts, Inc., the Reva and David Logan Center for the Arts and Arts + Public Life at the University of Chicago, Rebuild, and the Department of Cultural Affairs and Special Events in partnership with the Jazz Institute of Chicago.
Please bookmark and check back with this page for frequent updates, or contact
info1 at m-base dot org
Click here for detailed information
Also see: