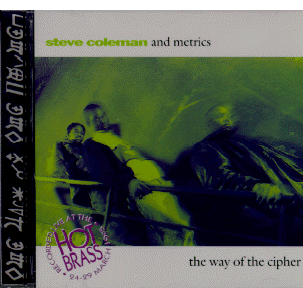 Liner Notes
The Way Of The Cipher is a wake-up call, a call to arms! It is a call to our brothers and sisters in the streets with a message of the times. Word in rhythm is a very old art. Freestylin (improvisation) and Ciphers are just as old. These concepts go back at least to ancient civilizations and have been with us ever since. Metrics comes out of this long tradition, using all of the information passed down to us by the brothers and sisters before us. We view the music in this performance as part of a process. For us the music is constantly in motion, sometimes being captured on recording. But the recording is just a snapshot of the music on its path, on its journey. This journey represents the journey of our people, it is a record in sound of our pilgrimage. We are united in our desire to bring the message of this pilgrimage to the people using the voice of music. This music is for everyone who can hear it but it is especially for the brothers and sisters in the streets. Hear, Feel, Know.
Personnel
On this performance the lyricist are Kokayi, Sub-Zero and Black Indian.
The musicians are Steve Coleman (alto saxophone), Ralph Alessi (trumpet), Andy Milne (piano/keyboards), Reggie Washington (bass), Gene Lake (drums), Josh Jones (percussion) and Laila (dance).
Track List
Freestyle 14:22
Fast Lane 07:42
Slow Lane 08:02
S-Ludes 01:30
Black Genghis 07:57
Chaos (Tech Jump) 01:49
Hyped 03:16
Laxed & Warped 07:47
Night Breed 15:04
Download
Some tracks are available for download on the download page.
Credits
Produced by Steve Coleman Production assistant Sophia Wong Executive Producer Daniel Baumgarten Project Coordinator Remi Sommers Recorded by Alain Cluzeau assistant engineers Christian Desille and Frederic Braun mixed by Steve Coleman, Joseph Marciano and Michael Marciano Photography Jean-Marc Lubrano Design Rebus Thanks to La Cite de la Musique, Paris Thanks to Jean-Paul Artero and Pierre Walfisz of the Hot Brass Club Recorded Live at the Hot Brass Club in Paris France March 26 and March 28, 1995 Mixed April 1995 at Systems Two recording studio in Brooklyn, NY
All songs written by Steve Coleman and published by Goemon Publishing Co. (SESAC/GEMA) except: "Fast Lane" and "Slow Lane" written by Steve Coleman, Terence Nicholson and Carl Walker and published by Goemon Publishing Co. (SESAC/GEMA), Blicka Music (SESAC), and Pho13 myuzik (SESAC).
Shout out to Black Thought, Malik, Utasi, Shahliek, Ezra Greer, Duane Sarden, Ravi Coltrane, Greg Osby, Roy Hargrove, Marvin "Smitty" Smith, Kenny Davis, David Gilmore, Richard Nichols, Air Smooth, Andrea the Great, Louis Coleman, Marvin Sewell, Joe Simmons, Chris Downing, KoKo Boom, Natalie Bullock. Special thanks to Roy Jones Jr. for inspiration (keep on comin brother).
Trilogy
This album is part of a trilogy.
Volume 1:
Steve Coleman and The Mystic Rhythm Society
Myths, Modes and Means BMG 74321316922
Volume 2:
Steve Coleman and Metrics
The Way of the Cipher BMG 74321316902
Volume 3:
Steve Coleman and Five Elements
Curves of Life BMG 74321316932
Also available as a box set:
Steve Coleman's Music
Live at the Hot Brass BMG 74321316912