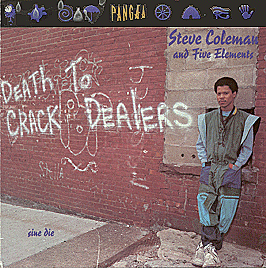 Liner Notes
Born in one of music's traditional centers, Chicago, on September. 20th, 1956, Coleman grew up on the South Side, within walking distance of the gamut of musical traditions, from blues to jazz to pop, that the Windy City has fostered. By accident, he found himself playing violin in the high-school orchestra in his freshman year. He switched to alto about six months later. His father, according to Coleman, 'a Charlie Parker nut', urged his son in that direction, but the young player had already picked out a model for himself — James Brown's towering altoist, Maceo Parker — and hooked himself up with a funk band.
When he got to Illinois Wesleyan, however, the other Parker came back into his musical view. Hanging out at various hotspots around 75th Street to watch aces like Von Freeman navigate gnarled changes triggered in Coleman a desire to rethink his father's points about Bird — which he began by listening to the boot-legged Charlie Parker LP his dad had slipped into his suitcase. By the time he left Chicago in May 1978, he was holding down a decent gig and leading a band at the New Apartment Lounge, writing music and playing Parker classics, and getting increasingly dissatisfied with what he saw as the diametrical (and unresolvable) oppositions fissuring the Chicago scene: 'Either cats were strong traditionalists or they were out' is how he puts it.
But he'd been hearing leaders from New York like Max Roach and Art Blakey come through with bands that mixed up those elements, and so he knew that was where he wanted to head next. Landing at the YMCA for a few months, he scuffled until he picked up a gig with the Thad Jones-Mel Lewis Big Band, which led to stints with the Sam Rivers Big Band, Cecil Taylor's Big Band and others. He'd also begun cutting records as a sideman with those leaders as well as pivotal figures like David Murray, Doug Hammond, Dave Holland, Mike Brecker, Abbey Lincoln, Bobby McFerrin and Branford Marsalis. While those were notable credits, they only went part of the way toward paying the rent, and so for the next couple of years Coleman spent a good deal of time playing the city's streets with the beginnings of the group that would evolve into Steve Coleman and Five Elements (the name comes from one of Coleman's favorite kung-fu flicks).
After some personnel shifts, the group began finding a niche in tiny, out-of-the-way clubs in Harlem and Brooklyn where they continued to hone their developing concept of improvisation-within-unique structure, the fundamental meaning behind what Coleman and friends call the M-Base concept. Hooking up with the adventurous West German JMT label in 1985, he and his co-conspirators got their chance to document their emergent ideas on Coleman-led recordings like Motherland Pulse, On The Edge Of Tomorrow, and World Expansion. Steve also produced the previous two albums as well as his first major label recording on Pangaea, Sine die.
What Coleman and his band have developed has moved critics to eloquence. In a 1987 Village Voice jazz supplement, Peter Watrous wrote, 'The mixture, heavy with his personality, is distinct….The first time you hear the music, it's a blur; the synapses don't fire, nothing fits….The power lies in its ambiguity, and after the oddness wears off, the music is addictive. It's unmistakable: an attempt to resist obvious uses, virtuosic.' Jon Pareles in The New York Times noted, 'Five Elements have taken a lesson from the East-West, Jazz-rock fusions of the 1970's, keeping the odd meters and dropping the extended vamps and solos'. Gene Santoro said in The Nation, 'As they range from the swaggering to the subtle…the Brooklyn-based crew that includes altoists Steve Coleman and Greg Osby, keyboardist Geri Allen, and trombonist Robin Eubanks (is) mapping some of the main lines for this generation's musical growth, much as the AACM did twenty years ago.
Find out what they're talking about, with Sine Die.
Personnel
Steve Coleman (alto saxophone), Graham Haynes (trumpet), Robin Eubanks (trombone), James Weidman (keyboards), David Gilmore (guitar), Kevin Bruce Harris (bass), Marvin "Smitty" Smith (drums), Cassandra Wilson (vocals).
Guest artists: Branford Marsalis (tenor saxophone), Gary Thomas (tenor saxophone), Greg Osby (alto saxophone), Jimmy Cozier (baritone saxophone), Geri Allen (keyboards), Lonnie Plaxico (acoustic bass). Joe Marciano (recording and mix engineer), Recorded at Systems Two in Brooklyn 1987/1988.
Tracks List
Destination (5:27)
Cinema Saga (5:16)
Soul Melange (3:51)
Circle C (3:54)
Proteus (6:37)
Passage (1:03)
First Sunrise (4:38)
Ur-Beat (4:22)
Dark To Light (4:21)
Profile Man (4:16)
Proteus Revamp (5:05)
Download
Music available on the download page.