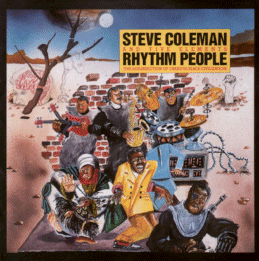 Personnel
The musicians included in this session are Steve Coleman (alto saxophone), David Gilmore (guitar), James Weidman (piano/keyboards), Reggie Washington (electric bass), and Marvin "Smitty" Smith (drums). Special guests for this project are Robin Eubanks (trombone), Cassandra Wilson (vocals), and Dave Holland (bass). Joe Marciano (recording and mix engineer). Recorded February 1990 in Brooklyn NY.
Track List
Rhythm People 07:08
Blues Shifting 06:45
No Conscience 05.29
Neutral Zone 04:23
Ain't Goin' Out Like That 04:58
Step'n 05:19
Dangerous 05:06
Ice Moves 06:28
The Posse 04:30
Armageddon (Cold-Blood-ed) 06:15
Download
Music available on the download page.