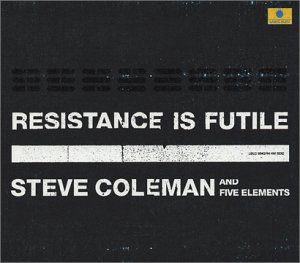 Line Notes
Steve Coleman and Five Elements live at Le JAM, Montpellier France
These CDs were recorded live at a club called Le JAM in the city of Montpellier in the South of France. The occasion was a series of intensive workshops and concerts over a period of two weeks. We call these type of setups 'Grass Roots' touring and we have done this before in the United States, Cuba, Senegal and India. However this is the first time we have done this kind of thing in Europe. The concerts recorded here were open to both students attending the workshops and the public, the atmosphere and energy was informal and loose. This is the form in which we prefer to communicate our musical ideas and hopefully we will be able to continue in this approach in the future.
In the tradition of music to which we belong performances are not based on the playing of material from the ëlatestí album. During concerts we play whatever material we feel at that moment, it does not matter which album the material is on. At every performance there will be some compositions never before performed by us (i.e. complete spontaneous compositions), some that are new to the audience and some older original material that may or may not have been recorded. Only the compositions "Resistance Is Futile" and "Reflex" have never been recorded before.
There was a lot of hard work put into doing this project. Without all of the hard work of Geoffroy DeMasure, Sophia Wong, Michaela Mayer, Pierre Walfisz and all the musicians in the band these workshop, concerts and this recording would not have been possible. We hope that this music communicates to you and that you enjoy it.
Personnel
Steve Coleman and Five Elements
Steve Coleman: alto saxophone, vocals
Jonathan Finlayson: trumpet
Ambrose Campbell-Akinmusire: trumpet
Andy Milne: piano, keyboards
Anthony Tidd: bass
Jesús Diaz: percussion, vocals
Sean Rickman: drums
Geoffroy DeMasure: trombone (guest)
Track List
1st Set – Abundance (Fullness)
Wheel of Nature (18:54)
Beyond All We Know (06:05)
9 to 5 (14:42)
Change The Guard (08:57)
Ah-Leu-Cha (fast) (05:28)
Law of Balance/Figit Time (13:49)
Total Time: 67:55
2nd Set – The Wanderer
Resistance Is Futile (Limitation) (15:14)
Hits/Straight No Chaser (06:10)
Easy Living (07:07)
Urban (07:37)
Flint (12:15)
Pad Thai (02:55)
Straight Ahead (05:46)
Reflex (05:59)
Total Time: 67:05
Composition
1st Set
Wheel of Nature
Beyond All We Know
9 to 5
Change The Guard
Ah-Leu-Cha (fast)
Law of Balance/Figit Time
Steve Coleman
Steve Coleman
Steve Coleman
Steve Coleman
Charlie Parker
Steve Coleman/Doug Hammond
2nd Set
Resistance Is Futile
Hits/Straight No Chaser
Easy Living
Urban
Flint
Pad Thai
Straight Ahead
Reflex
Steve Coleman
Steve Coleman/Thelonious Monk
Leo Robin/Ralph Rainger
Steve Coleman
Jerry Goldsmith
Steve Coleman
Mal Waldron
Steve Coleman
Credits
Recording Engineer Vincent Mahey and Hervé Martin
Mixed by Steve Coleman and Joseph Marciano
Mix Studio Systems Two Recording Studio
Mastered by Nicholas Prout
Mastering Company Foothill Digital
Producer Steve Coleman
Executive Producer Pierre Walfisz
Assistant Producer Geoffroy DeMasure
Cover Design and Layout Jérôme Witz
Photography Guy Le Querrec
Liner Notes Steve Coleman
Concerts recorded live at Le Jam Club, Montpellier France – July 12-13 2001
Mixed at Systems Two Recording Studios, Brooklyn, NY – July/August 2001
Mastered at Foothill Digital, New York, NY – August 21, 2001
All songs composed and arranged by Steve Coleman are published by Goemon Publishing Co. (SESAC / GEMA).
Steve Coleman plays a Selmer Series III Alto Saxophone, Vandoren mouthpieces and Vandoren reeds.
A very special thanks goes out to Geoffroy DeMasure, Pierre Walfisz, Daniel Baumgarten, Jean Peiffer and all the staff at Le JAM, Sophia Wong, Michaela Mayer, Thomas Stowsand, Michel Lecomte, Jean-Marc Garbay, Nancy Marciano, Jean-Paul Gauvin, Patrick Selmer, Sani Widowati, all the cats in the band and all of the students who attended the workshops at Le JAM