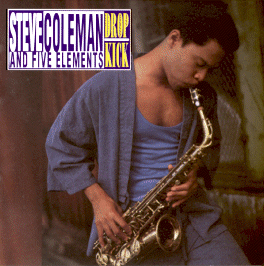 Liner Notes
In 1981, Steve Coleman and Five Elements was conceived with a desire to play unrestricted, creative music based on the living experiences of African-American people and the African Diaspora. The brain child of Steve Coleman, the band began by rehearsing in basements in neighborhoods such as New York City's Harlem and Bedford-Stuyvesant, attempting to capture the musical ideas gathered from dreams of futuristic musical landscapes. The band gigged locally for three and a half years before exploding on the European tour circuit, quickly building a fanatical cult following in Japan and America.
Steve Coleman and Five Elements first recorded in 1985 on the German-based JMT label. After two albums, On the Edge of Tomorrow and World Expansion (By the M-Base Neophyte), Steve acquired his first major record deal in 1987 with Pangaea Records (recording Sine Die) and later with RCA Records. The musical vision of Coleman's RCA Novus albums Rhythm People (The Resurrection of Creative Black Civilization), Black Science and the latest Drop Kick has created a major following and a completely separate form of music, leading the way in the style now called M-Base (an amalgam of futuristic improvisations layered over a base of Jazz/Funk/ African based polyrhythms and redefinition of the structural ideas of earlier pioneers of African-American music). Despite accolades for his past work from the media, Steve remains committed to his original vision of forging ahead to create living, musical experiences; thus ensuring the group's fresh and unpredictable sound.
Drop Kick expands on the concepts of the earlier Five Elements work in redefining the forms and concepts of earlier African-American music. As Steve states "the main intention is not so much the realization of a commercially perfect project, but the documentation of the living process expressed through music." Mr. Coleman feels that earlier Five Elements explorations were concentrated on developing a distinct rhythmic base on which to build the band's musical structures. The last album, Black Science, and this current album take the concept a step further in expanding the unique melodic and voice leading aspects of this music. This results from a complete understanding of the way sound can expand organically. Having the material unfold in this manner can give the soloists more material to draw from when building their improvisations. Solos are built using each song's rhythmic, melodic and voice leading properties paralleling developments pioneered by men such as Duke Ellington and Charlie Parker. Steve continues, "each of Duke's pieces had a particular feel, a special rhythm and melodic/harmonic progression that defined the character of each piece. I try to achieve this with my music, but in my own way. For me, this is more interesting than playing five or six songs with the same rhythm but with different chord changes. Life is full of many experiences, each with its own special flavor that we try to reflect in our music."
The musicians included in this session are veteran Five Elements members David Gilmore (guitar), Reggie Washington (bass), Marvin "Smitty" Smith (drums), James Weidman (keyboard), and new Five Elements member Andy Milne (keyboard). Special guests for this project are Greg Osby (alto sax), Michael Wimberly (percussion), Don Byron (clarinet and bass clarinet), Lance Bryant (tenor sax), Cassandra Wilson (vocals), Camille Gainer (drums) and Meshell Johnson (bass).
Ramses refers to the Ramses kings, a line of great Egyptian leaders that ruled Egypt in the nineteenth (1320-1200 B.C.) through the twentieth (1200-1085 B.C.) Dynasties. These kings presided over one of the most outstanding periods in the long history of Egypt. "The song was constructed from independent cells, rhythmically, melodically, and resultant harmonic colors, which combine to give the piece its pharaonic sound." Drop Kick has as its basis a "rhythmic motif that is reminiscent of the movement that results from the successful execution of a drop kick in the martial arts. When I created this rhythm, I had this image in mind" explains Coleman. "Different sections played by separate groups of instruments run through the song, each with its own independent time base." The Journeyman represents the journey of Aboriginal man in his quest for knowledge. "The piece is constructed of a series of simple, layered sounds that have a specific temporal rhythmic relationship." Simbius Web was written with Miles Davis in mind, and features rhythmic horn shouts in a laid-back. funky motif. Tschanz is a piece written in miniature cyclic suite form. "I composed this mainly as a vehicle for the different instruments [clarinet, alto sax, tenor sax and a four piece rhythm section]. The name comes from a corruption of the word chance, but in fact it means chance Not! I don't believe in chance," declares Coleman. Z Train describes the last train leaving in an apocalyptic New York.
Personnel
Steve Coleman (alto saxophone), Andy Milne (piano), James Weidman (piano), David Gilmore (guitar), Reggie Washington (bass), Marvin "Smitty" Smith (drums, percussion). Special Guests: Greg Osby (alto saxophone), Lance Bryant (tenor saxophone), Don Byron (clarinet, bass clarinet), Cassandra Wilson (vocals), Meshell Johnson (bass), Camille Gainer (drums), Michael Wimberly (percussion). Joe Marciano (recording and mix engineer). Recorded January 1992 in Broolyn NY.
Track List
Ramses
Drop Kick
Terra Nova
The Journeyman
Simbius Web
Dread Drop
Tschanz
Contemplation
Shift On The Fly
Bates Motel 11. Z Train
Download
Music available on the download page.